This guide is designed for Australian punters who are interested in learning more about Australian online blackjack options and the legalities surrounding these options. We will take a look at the legal status of online blackjack gambling in Australia, how the IGA affects players, and how Aussie punters can ensure they are engaging in legally sanctioned secure and high-quality gaming.
Below we will also provide recommendations for legal online blackjack sites that deliver the optimal online gaming experience to players in Australia, and that accept the AUD (Australian currency) and support Australian punters through Aussie friendly deposit methods.
Is It Legal To Play Blackjack Online In Australia?
There are some regulations in place that are related to online gambling in Australia. Prior to 2001, online gambling was largely unregulated. The Interactive Gaming Act of 2001 changed that. When the IGA was passed, operating an online gambling site within Australia and offering those services to Australian players became illegal. To clarify, it is not illegal to operate an online casino within the nation's borders, but it is illegal for these sites to offer their services to Australian residents. So essentially, you can operate an online gambling site within the country, but you cannot accept Aussie punters as customers.
There are not any laws that prohibit players from participating in offshore online blackjack for real money as long as it is provided by a governing jurisdiction that has already legalized online gambling. In fact, the online gambling laws in Australia do not address player participation at all, but rather place restrictions on the gambling sites themselves. Despite this fact, we encourage you to stick to offshore blackjack sites accepting Australian players and not push the envelope by taking risks at any sites not operating in compliance with Australian gambling laws. The recommendations in this guide all reflect legal blackjack sites that accept Aussie punters.
Trusted And Legally Licensed Online Casinos Offering Blackjack Games for Australian Players

This section of our guide is included to provide players with information about the top rated online casinos that accept Australian residents. Each of our recommendations has been carefully vetted using our intense review process. This process determines which sites are legitimately operating within the industry and offer a high-quality performance and secure gaming environment. There is a reason why we only recommend a few Australian friend casinos. We simply want to list the most reputable, and the following sites are some of the top rated in the industry.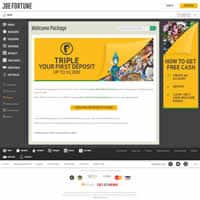 #1 Blackjack Site For Australian Players
Joe Fortune 200% Bonus Up To $1,000

Joe Fortune is our featured online gambling site that accepts all Australian players. They been servicing Australian players since 2016 and have earned excellent ratings across the web by being fair and honest with players and paying out winnings in an expedient manner like every casino should. Aside from them being extremely reputable, they also offer some fantastic blackjack bonuses. New players can take advantage of an amazing 200% bonus up to $1,000 free.
Is It Safe to Play Online Blackjack In Australia?
As long as you stick to legally licensed and regulated blackjack gambling sites, then enjoying this type of entertainment can be perfectly safe and secure. One of our main objectives is to provide direction to players seeking legitimately licensed online gambling options that have made player security and safety a priority. Licensing requirements do ensure some level of security, however requirements for inclusion in our guide demand that the sites we recommend exceed those requirements and demonstrate a commitment to employing an advanced security profile and using industry-leading software solutions that ensure enhanced security for players.
The types of things we look at to determine a particular blackjack site's level of safety to players include various elements of their security profile such as their data encryption technology, their firewall and anti-virus protection, their fraud prevention systems, and how they treat sensitive player data. We also look at the quality of the casino software that they use to provide their blackjack games. Our team of professionals is familiar with the leading software platforms that have built-in security measures as well as very high-quality performance. We are also trained on how to evaluate new software solutions for these elements.
What Types of Online Blackjack Games Are Available to Australian Players?
Since the websites that Australian punters are permitted to play at are based within regions that have already legalized online gambling for their territories, the range of games available is substantial. You will find multiple variations of blackjack, including traditional blackjack, single deck blackjack, double deck blackjack, European Blackjack, Face Up 21, Match Play 21, Perfect Pairs, Pontoon and Super 21, among others.
Different casinos will offer various features associated with their gaming interface, so your experience really can be different at each destination. Rules and options are always listed in the game's interface for quick reference by players. Free blackjack gaming options are also available and are a great way to try out a new site, learn a new game or see how well a new playing strategy works. Free play is also a great option for those times when you want to play blackjack but not for real money.
Live Dealer Online Blackjack for Australian Players
Several of the blackjack casinos we recommend offer live dealer blackjack games. These games are a combination of live dealer interaction through online access. Players can see and hear everything taking place at the blackjack table via the casino's advanced web streaming technology. Players can also interact with the dealer through a live chat function. Many players prefer this type of blackjack gaming because it is closer to the live experience at a land-based casino. Free play options are not typically available with live dealer games.
Mobile Blackjack for Australian Players
The online casinos that offer blackjack games to Aussie punters usually also offer a mobile application to complement their services and provide on the go access for their customers. It is in their best interest to ensure you can access your account and their services any time, any place. These applications are usually web-based, mobile optimized apps that do not require a download, however, some brands do require a download in order to take advantage of their enhanced mobile gaming features.
Mobile capabilities are compatible with your smartphone or tablet and include most of the primary mobile platforms and carriers. The mobile interface design is optimized to render beautifully on your display, regardless of which device you are using. As long as you maintain your device's hardware and software updates, you should not have any problems with compatibility or security. Keep in mind that if you do not maintain your device updates, the security protocols on your device may not work properly.
Are There Special Australian Blackjack Rules I Need To Learn?
There are not any special Australian blackjack rules that you need to learn. The different blackjack games may have varying rules and options, and those will always be listed on the game's interface for quick reference. If you are learning a new blackjack game variation that you've not played before, you can probably access it through the site's free play options and learn the rules and how to play without risking any money. Traditional objectives apply to the blackjack games available to Aussie punters. Players attempt to achieve a higher hand than the dealer without exceeding a total of 21. Games that have modified objectives will also list those with the rules on the interface.
Other Country Specific Blackjack Guides