Microgaming has one of the largest gaming sites in the industry, with most of their casinos featuring over 400 game selections. Their table games include 40 variations of blackjack. While that is far too many for us to go through on this page one by one, we decided we can list the options for you, describe the classic blackjack game and include the 'general rules' that you will find most often online.
We will also discuss the features and options available with Microgaming blackjack games. Microgaming casino destinations do not accept US players at this time and are premium destinations for players looking for UK online blackjack options.
Best Microgaming Casinos To Play Online Blackjack In 2023

We have used our intense review process to determine the top-rated Microgaming casinos at which players can engage in games of 21.
We have personally vetted each brand you see here and can ensure you that they are legally operating within the industry, they employ the most advanced security protocols, and they offer the most reliable and reputable blackjack gaming performance. We recommend each one of these casino destinations to you without hesitation.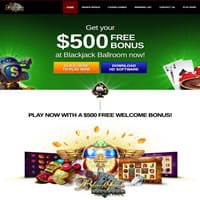 #1 Microgaming Casino For 2023 - Blackjack Ballroom
Blackjack Ballroom Up To €500 Free

Our Personal Opinion Of Blackjack Ballroom: Blackjack Ballroom is at the top of our list when it comes to reputable microgaming casinos. They offer all your favorite blackjack games found in the software suite, as well as live dealer blackjack streamed via a webcam. Players love this site because they offer all types of gambling under one account.
General Rules For Microgaming Blackjack
Following are the 'general rules' for Microgaming blackjack; however the rules will vary from game to game. These are the rules that are found to be in place most often.
Microgaming blackjack games use between one and eight decks for their games, with the number varying by game. The cards are always shuffled after each hand.
The dealer will always stand on 17.
Player is paid 3 to 2 for Blackjack.
Doubling down is permitted on any two cards except in games that are played using European rules, in which case players can only double down when the cards total 9 – 11.
Should the dealer achieve a blackjack after the player has split or doubled, the entire wager is forfeited.
If the dealer shows an Ace, then insurance is typically offered to the player.
Splitting is permitted and can be used up to 3 times in a single hand.
Aces can only be split one time. You will be dealt one additional card for each and then be required to stand.
Splitting is only permitted on like cards.
Microgaming Software Features
One of the reasons that Microgaming has become a mega-brand among online casino gaming software is their attention to detail. They have made their bj software extremely feature rich and customizable so that players have access to the precise type of gambling experience they are looking for. Following we take a look at some of their premium features and options.
Classic Blackjack
Microgaming's Classic Blackjack game is available in a few different types of variations, including Single Hand Classic Blackjack, Single Hand Classic Blackjack Gold, and Multi-Hand Classic Blackjack Gold. The game employs European Blackjack rules and is played with just one deck of cards. The cards are shuffled after every hand, which makes card counting a bit more challenging. As in European Blackjack, the dealer does not check for blackjack until the player has finished their turn. The wagering limits for this game range from $2-$200 for the standard game, and $5-$200 for the Gold. The Gold version of this game is the most popular option due to its faster speeds, more advantageous angles, and enhanced animation and graphics. Because European rules apply in this game, the doubling down is restricted to hands totaling 9, 10 or 11.
Standard And Gold Variations
Microgaming's blackjack games come in one of two categories, standard and gold. The standard games are by no means average. They offer fast, smooth game play and the option of single hand versus multi-hand. We definitely think that using the word 'standard' to describe this game category is an understatement. The performance with the standard games is impressive. The gold category features a couple of upgrades, such as higher minimum bet limits, and more realistic graphics and animation that include a realistic angle of the display that makes it genuinely appear that you've just pulled your seat up to the blackjack table. In addition, these games are typically faster and sometimes a little smoother.
Expert Mode
This feature is an automated game play mode that allows players to customize a strategy card and then set the game play to automatically play on your behalf based on the strategy card configuration. You can just sit back and watch the game play progress. Players can edit the strategy card at any time, and the game play will reflect the predetermined moves. Auto-play can be configured to proceed exactly as you would if you were playing manually. Expert blackjack mode is not available in all Gold version games.
Customization Settings
There are a variety of ways to customize your online blackjack experience with Microgaming software. There are four speed settings to choose from to make sure that the game progresses exactly as fast or slow as you want it to. In addition, there are 5 sound settings that include options to customize what you hear at various points in the game, including advanced settings and the option to turn sounds off as well.
Single Hand and Multi Hand Options
Microgaming offers players the option to play multiple hands at once. This option supports up to 5 hands simultaneously, providing increased options for bigger payout and added excitement. This options is not available on every single blackjack game, but is present on a lot of the game options.
More Blackjack Software Reviews