Nestled deep in the Heart of Dixie, Alabama has historically been an unfavorable environment for gambling of any type. Despite how state legislators feel about it currently, blackjack betting in Alabama is not against the law, and we'll show you how to play 21 without violating any rules or regulations.
Four casinos exist within the state of Alabama and are located on Indian Reservation grounds, but none of them offers blackjack or any other table games. That means that Alabama gamblers will have to venture offshore to a reputable online casino in order to beat the house.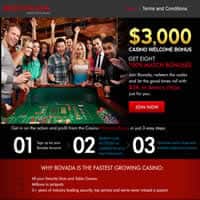 #1 Legal Online Blackjack Site For 2023
Bovada Casino 100% Bonus Up To $1,000 x3

Bovada is our favorite casino site for online blackjack games in Alabama. Bovada has been offering up superior blackjack services since 2011 and are now the top online destination for real money BJ. One of Bovada's best features is that all of its online gambling services, including casino games, poker, sports betting, and more, are offered with one user account. Bovada's current blackjack offer allows users to claim 100% up to $1,000 (redeemable 3 times) for a total of $3000 free. To top it off, they also accept Bitcoin that allows for faster deposits and withdrawals.
Best Online Blackjack Casinos for Alabama Players
Is Real Money Blackjack Legal In Alabama?
Yes, playing 21 for cash in the state of Alabama is legal, but only if you play at a top offshore casino operating online. Just like a majority of states in the USA, Alabama has yet to regulate in-state gambling, so there are no brick-and-mortar or domestically-licensed online casinos in AL offering BJ tables for real money. However, there are also no federal gaming laws or state laws on the books preventing online gambling, making Alabama one of the states that allow online blackjack from casinos operating legally offshore.
There are four Class II tribal casinos located in Alabama, but those casino floors are dedicated to slot-style machines and electronic games and do not offer 21 or table games of any kind.
Since 2019, there have been multiple bills introduced into the Alabama legislature regarding in-state gaming, but nothing has made it to the governor's desk so far. Expanded regulated gaming is likely on its way to the state, but until that happens, online casinos operating offshore are the only option for gamblers in Alabama.
Is Blackjack Available At Casinos in Alabama?
Although four Indian casinos exist in Alabama, they do not offer table games and focus on electronic gaming. The best option – and only lawful option – for Alabama residents is online blackjack sites operating legally offshore over the Internet.
What is the Legal Minimum Gambling Age in AL?
The minimum gambling age in AL depends on the type of wagering in question.  Concerning card games, the state requires players to be 21 and up in order to play games in any of the state's tribal casinos.  The state's designated gambling age requirements clash with the policies of most legitimate online casinos that accept players who are 18 and up.
These online casinos expect players to be aware of and adhere to their state's gambling laws, but they do not take it upon themselves to enforce those laws.  Despite this, we recommend that players adhere to the state's established gambling laws.
The minimum gambling age for pari-mutuel racing varies from 18-19 depending on which track the race is being held.  Bingo is open to players who are 19 and up.
Where To Find Blackjack In Alabama Near Me
If you absolutely must experience the rush of playing 21 for real money at an in-person venue, the closest available option is Biloxi, Mississippi. They have many physical casino locations along the Gulf shore that feature BJ tables, as well as Vegas-style restaurants and entertainment.
How To Play Blackjack Online Legally In Alabama?
In order to play real money 21 online in Alabama, you'll need to become a member at one of our recommended offshore casinos. This process requires a few steps, which we detail below:
Once you've decided which online casino(s) to wager with, find the join or register button and click it. This is usually in the top-right portion of the homepage.
At the registration screen, you will be required to enter some personal data, such as your address and name, and you will be required to create a login and password. Remember to use your real information, as you'll need to confirm that once you request any blackjack payouts.
The next screen you'll come to will ask for your initial deposit into your bankroll. Deposit methods include most major credit and debit cards, wire transfers, and Bitcoin (BTC). Many online casinos offer bonuses that match a percentage of your initial deposit, and these bonuses are usually better when using Bitcoin or another cryptocurrency. Be sure to investigate these for the most advantageous bonuses, and remember to read and understand the rollover requirements.
Now that you've made your initial deposit, you can venture to the table games section and try to double-down on the dealer. Hit me!
Best Blackjack App For Mobile Play
Our top-rated online blackjack casinos offer mobile gaming through the use of web apps, which can be accessed by any modern mobile browser (i.e. Safari, Chrome, Firefox, Brave, etc.). The web app conforms to the dimensions of your mobile device's screen and offers an app-like experience without the hassle of a download or any updates. All you need is an Internet connection, and you can play BJ on the go, anywhere in the US.
Live Dealer Blackjack Online
If you are looking for an experience similar to the best blackjack in Vegas, then perhaps live online tables are your best bet. Electronic games are fun, but there's nothing quite like the thrill of a live dealer flipping the cards.
Live tables of 21 are available at most, but not all, of our most recommended online casinos.
Text chat functions are also available for player-to-dealer communication, and you can even select which dealer you want to play with!
Online Blackjack Tournaments
If you want the most BJ excitement the Yellowhammer State can offer, then we recommend the online blackjack tournaments from our top casinos. Grand prizes total up to $100,000 with entry fees as low as $10. Once entry fees are collected, all players are granted an equal amount of chips to bet with. The top players on the leaderboard at the end of the tournament are eligible for cash prizes. Tournaments are starting all the time, so check out the specific rules for each, and then compete for a large payday.
Online Casino Bonus Offers Available to AL Players
All of our recommended online casinos offer a signup bonus to new players that is structured as a deposit match bonus. Some casinos offer blackjack-specific welcome bonuses, or bonuses for 'other games', with the majority of sign-up bonuses having a slots focus. The same is true of reload bonuses. Because blackjack games allow for player input to determine the outcome that lowers the house edge, these games are usually integrated into the bonus structures with higher wagering requirements.
When this is the case, one option is to use the sign-up bonus to play slots and then use your winnings to play blackjack. This way you get the most bang for your buck with the bonus offers.
Major credit and debit cards are accepted, as well as wire transfers, but the most preferred method of blackjack deposit that offers the largest matching bonus is Bitcoin. Make sure to read the details of the BTC bonus, as almost all of them have rollover requirements that involve additional betting before payouts can be collected.
Bonuses are not required, so you can opt to forgo the offer and the wagering requirements altogether if you prefer.
2023 Alabama Blackjack FAQs