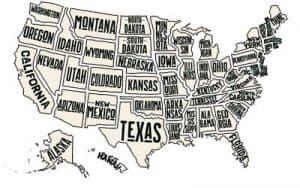 Is it legal to play online blackjack for money in your state? Find out below as we double-down on our state by state coverage, providing a clear and legal path to online 21 success. We've prepared a detailed analysis of each state's online blackjack laws and will provide our recommendations for the best tables to play a hand of 21.
With a wide variety of blackjack options available to US gamblers, it's tough to decide which avenues to take to stay on the right side of the law. Whether you want to play standard rules, alternate rules, or you want to use a live dealer blackjack games online for a casino-like experience, we'll cover the legalities of each, and if it's within the boundaries of the law to participate in your home state.
Online Blackjack Laws In The United States (USA)
It is legal to play blackjack online for money in the USA, and bettors in almost all states have some form on online options available to them. Although some states have regulated their own online blackjack casinos, the Federal Wire Act prevents the transfer of money across state lines for the purposes of gambling, therefore excluding anyone located outside of that state.
Online players located in the remainder of the United States have the option of using an offshore casino operating online, such as the sites you see featured on this website. There are no laws on the books that prohibit the wagering of money at a regulated online blackjack casino operating legally offshore.  Also, our recommended offshore blackjack casinos offer membership beginning at 18 years of age, a real advantage of state-regulated casinos that require bettors to be 21.
The U.S. States That Allow Domestic Online Blackjack
There are a few states that currently allow state-licensed online casinos, including online blackjack games.  To be honest, we expected this list to grow a lot faster than it has.  The specific BJ games vary from state to state and site to site, but players do have a decent range of options for real money online blackjack.
States Currently Offering Domestic Online Blackjack Games
Delaware
New Jersey
Pennsylvania
States Where the Launch of Domestic Online Blackjack is Pending
States With Pending Online Blackjack Legislation
There are not any states currently attempting to pass legislation to allow domestic online casino gambling, but legal online blackjack casinos are legally accessible from most US states.
Which States Allow Offshore Online Blackjack In 2023?
There are only a few states that outright prohibit online gambling, regardless of the source as is explained in the section directly below this paragraph. However, there are no state laws prohibiting 18+ residents from playing blackjack games online in the other 48 states.  So unless you are in CT or WA, you can legally enjoy real money blackjack games online at any of the US-friendly, online casinos you see listed in our guide. The online casino brands available to players may vary from state to state, but nearly every state has some great options.
*Passed state laws that ban offshore gambling.
States Where Online Blackjack Is Against The Law
Washington has passed legislation that prohibits all forms of online gambling. Although we have yet to hear of any investigations or charges being brought against anyone for online gambling, it is still best to be informed of your state's online wagering laws.
States With Mobile Blackjack Apps
The few states that have ventured into state-regulated online casino gambling also recognize the popularity of mobile gaming.  If they haven't already, they will be launching mobile blackjack gaming in the very near future.
For all players not located in NJ, PA, or DE, our recommended online casinos offer web apps that provide an app-like gaming experience through the use of a mobile web browser. Through responsive design on sophisticated, web-based mobile applications, the user interface renders perfectly to the screen dimensions on most mobile device screens and offers the solid gameplay of a downloaded app while providing heightened security levels that only a web-based application can provide. Betting on the go can be easy with our top-rated online blackjack casinos.
States With Live Dealer Blackjack Online
A popular feature that online casinos utilize to provide an interactive blackjack experience is to offer live dealer tables. As of this writing, several state-regulated online blackjack sites are working on integrating this technology into their interface.
Most of our recommended online casinos already offer Live Dealer online blackjack games, facilitated through advanced web streaming technology and advanced, feature-rich gaming environments.  These live dealer games provide a chat function to allow for player-to-dealer communication. There's nothing quite like a live dealer, and playing live 21 online can ensure a realistic setting for optimum gambling. Its the perfect blend of online and face-to-face gaming.
FAQs About Playing Online Blackjack in My State
If my state doesn't have any casinos, is it illegal for me to play blackjack online?
Unless you live in CT or WA, the answer is no.  In fact, the fact that you don't have any other casino gambling entertainment available in your state makes online blackjack ideal for you.  Most states, whether they offer brick and mortar casinos or not, have not addressed offshore online casino gambling in any way.  There are not any US federal gambling laws that make it a crime for US residents to play blackjack online, so outside of the two previously mentioned states, you don't have to worry that you're violating any gambling laws by playing blackjack online.
Why don't all states offer domestic online blackjack?
Even though the DOJ re-interpreted the Federal Wire Act back in 2011 to allow individual states to license state-regulated online casino gambling, most states and lawmakers simply haven't done anything with this newfound freedom.  The good news is that US players still have options to legally and safely play real money bj games online through our recommended online casinos.
What is the minimum legal gambling age for playing blackjack online in the US?
The answer to this question varies from state to state.  More than half of US states allow real money blackjack games at their land-based casinos, and at least 10 of these states allow players 18 and up, while the remainder requires players to be 21 and up.  If you click on your state from the menu on the right (coming soon) you will find that information there for individual states.
The few states that have launched domestic online casinos have established a minimum legal gambling age of 21 in order to play real money games.  The premium online casinos you see featured on this site accept players who are 18 and up.
Where can I play blackjack online without leaving my state?
More than half of US states offer real money blackjack games at brick-and-mortar casinos and card rooms, so you've got a 50/50 chance that your state has some kind of option for playing 21.   For those who are not in the lucky 50%, or those who would still have to travel too far to reach one of the available casinos, legal online blackjack sites are a great option.  Not only do you not have to leave the state to enjoy online 21 games, but you also don't have to leave the house.