RealTime Gaming is one of the most respected online casino software brands involved in the online gambling industry; therefore we weren't very surprised to learn they offer one of the top rated blackjack game selections from among premium online casinos. This guide will review RTG blackjack for you in detail to provide you with a bird's eye view into what they have to offer players to determine if their games would work well for you. RTG has over 200 game titles in their gaming suite and a nice selection of variations of Twenty-One.
Not all of the RTG casinos offer every single blackjack variation that we cover in this guide, but each brand offers some of them, with several larger casinos offering most or all of them. RealTime Gaming has developed both downloadable and no download blackjack games. We will touch on the rules, features, and strategy involved, as well as provide a description of each game. Players love RTG blackjack because of the fast speed at which you can play, and the fact that sites running on Real Time Gaming software typically offer the best bonuses in the business. And who doesn't love to start out with a bankroll that will double or even triple your bankroll size?
The Best US Online Casinos For Playing RTG Blackjack Games In 2023
Following is a refined listing of the top-rated RTG casinos that offer a strong selection of blackjack games to play. They will each offer their own combination of bj game titles, and have each been vetted by our team of online gambling professionals to determine that these brands are legally licensed, hold security profile certifications, and offer high-performance, user-friendly, and overall highly enjoyable blackjack gambling experience. We have also listed their current blackjack bonus offers as well.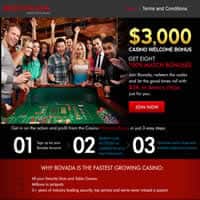 #1 Rated RTG Online Blackjack Casino For 2023
Bovada Casino 100% Bonus Up To $3,000

While all the casinos we recommend to our visitors are trusted and reputable, there is one particular RTG casino that stands above the rest for many different reasons. Bovada is one of the oldest and most reputable gaming sites online that have been in business since 2011. We love Bovada because they have deep pockets, and players are always paid in a timely manner. We also love the fact that players can bet on sports and play poker all from one master account.
Bovada currently has a special blackjack offer of 100% match bonuses up to $1,000 that can be claimed 3 times.
RTG Blackjack Rules
Because each of the 21 games offered by RealTime Gaming varies somewhat, the rules will also vary. Here we are listing the RTG blackjack rules for standard blackjack. Please visit the 'rules' tab for any other variations that you are playing at one of the recommended RTG casinos.
Six decks are used for standard blackjack, and the cards are reshuffled after each hand.
Dealer is required to hit on soft 17.
Player is paid 3 to 2 for Blackjack.
Any winning hand other than Blackjack is paid 1 to 1.
Insurance bets pay 2 to 1.
Players may choose to split up to three hands.
Player may choose to surrender on any first two cards.
Players may double down on any two cards.
Split Aces receive only one card and players cannot re-split Aces.
Being dealt a ten-value card on a split Ace does not result in Blackjack.
These rules apply only to RTG standard twenty-one games. We will point out any major rule differences in the game variation descriptions below.
Placing Your Bets
Just as the rules may vary among the different games of blackjack, the betting limits vary as well. Some games have a maximum bet of $300, while others allow up to $500 wagers to be placed. The gaming interface in the RTG game suite is very user friendly, feature rich, and innovative. To place a wager during game play, follow these steps:
Click on the chip that represents the amount you want to wager, with additional clicks adding to the wager.
You can remove a bet by clicking on the desired chip to be removed while it is in the betting circle.
RTG Blackjack Game Variations
Standard Blackjack - This is the traditional game of blackjack, and uses 6 decks for game play. It is the standard objective of coming as close to 21 without going over, while still beating the dealer's hand. The rules for standard 21 are listed above. You will be hard pressed to find a reputable RTG casino that doesn't offer this particular version of bj. In addition, some RTG casinos, such as Bovada, offer both Single Deck and Double Deck Standard Blackjack. The gameplay is virtually the same except that fewer decks are used and there are no surrender options available.
European Blackjack - The primary difference in this game is that the dealer does not receive their second card until after the player has made all their decisions, including any doubling or splitting of cards.  This game is played using six decks.  Following are the rule variations for this game:
Players may double down on hard totals of 9 – 11 only.
There is no surrender option
Faceup 21 - This game closely resembles the standard blackjack game, although 8 decks are used in this game, and all cards are dealt face up, including the dealer's hole cards. This minor difference changes the way players make decisions since they can see both of the dealer's cards from the start and hence know more confidently when they should hit based on the dealer's hand. Dealers win all push results. Following are rule variations as opposed to standard blackjack.
Blackjack pays even money in this game.
Players may choose to double down only on 2 card totals of 9, 10, or 11.
Dealer wins all ties except for Blackjack ties.
Matchplay 21 - This game still maintains the same game objectives as standard blackjack, however all tens are removed from the decks. It is typically played with 8 decks, which are shuffled after each hand. The removal of the tens does give an advantage to the dealer, so there are some special payouts to players in this game to compensate for the disadvantage to players. The special bets have to do with card combinations that achieve 21 and some that do not. You can view the payout table from the game's interface. Following are some rule variations unique to this game:
The player is allowed to double down on any number of cards one time only and will receive only one card.
The player may also choose to surrender after doubling down which surrenders the double down portion of the bet.
Payouts are affected by specific card combinations and can result in higher than 1:1 payouts. See the pay table in the game's interface for details.
Perfect Pairs Blackjack - This variation of the game is played exactly as standard blackjack, except you can also place a perfect pairs side bet to try to get some extra winning options in there. To participate in the perfect pairs bonus bet, you must place your wager before any cards are dealt. If you achieve a pair, you win the bonus. The perfect pairs side bet is not affected by the dealer's hand. An example of payouts for perfect pairs at an RTG casino is as follows:
Any mixed pair pays 6 to 1
Any colored pair pays 12 to 1 (two pair of same color)
Any perfect pair pays 25 to 1 (two pair of same suit)
Pontoon - Pontoon has a distinct characteristic that sets it apart from standard blackjack as both dealer cards are dealt face down, forcing the player to draw blindly with no view into the dealer's hand at all. This player disadvantage is compensated by a 2 to 1 payout when a Pontoon is achieved. The Pontoon is a natural blackjack that includes an Ace and a ten value card. A Five Card Trick hand is considered the second best hand and is achieved by holding 5 cards without busting. Following are some of the rules that may differ from standard blackjack:
Dealer wins all ties.
A Pontoon can be achieved from a split hand.
Players must hit until they reach 15 or more.
Players can choose to double down on 2, 3, or 4 cards as opposed to just two in most games.
If a player's hand has not reached 15 after doubling down, an additional card must be drawn.
Super21 - This is the final bj variation covered in this guide. The game is played with 8 decks of cards, and has some distinct rule variations. Blackjack pays out even money except when it is achieved with all diamonds, in which case it pays 2 to 1. The following rules are unique to this game:
A player can choose to double down or hit after aces are split.
Players can choose to double down after receiving any number of cards.
Players are allowed to use late surrender and a double down rescue, which means they surrendered after they doubled down.
A player may choose to surrender after splitting and after hitting.
A player automatically wins if they achieve a hand of six cards or more without busting (this does not include after doubling down); any hand resulting in 21 that consist of five card or more; any blackjack that does not include split hands; and blackjack with two diamonds.
While you won't find every variation of these games at real time gaming casinos, the majority of the sites we recommend do offer most of them. We recommend playing with the best RTG casinos that have good reputations in the industry. We only recommend the safest places to play online, but it's ultimately up to the player. You can view my list of the highest rated legal blackjack sites on our homepage.
More Blackjack Software Reviews